Winter Camp at Tamaracouta Scout Reserve
Our "winter" camp was a weekend to be remembered for its weather above all else. It was the first camp in which there were two girls in the crew, and it also marked the first investitures for the Wayfarers Rover Crew.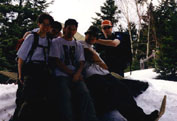 The first weekend in March six of us set out to camp in tents in the winter. We were all prepared for a snowstorm, freezing weather, and snowshoeing. However, to our delight, the temperature reached 21 degrees Celsius on Saturday morning. We spent the morning snowshoeing, in T-shirts no less, to the Falls at Tamaracouta. The snow had begun melting, and the Falls were roaring with life, passing over and under the natural ice bridges left by melting snow. We snacked at the Falls and then snowshoed back to camp for lunch. On our way we passed the ice tower, and were invited to have a climb in the afternoon.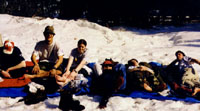 Shortly before lunch Sheila our advisor arrived to invest the first ever "official" Rovers in the Crew. She found us lazing about on Therma-Rests with socks and shoes off, taking in the beautiful sun. She joined in the lazing for a while, and then got to work. The three founding members of the Crew, Paul, Julian, and myself (Tracy), were invested on that beautiful sunny day. Sheila left shortly after the investiture, but not before a little squirrel made away with our bagels, all six of them!
After finding something else to eat for lunch, the six of us hiked back over to inspect the ice tower. Some of the Crew was gung ho on climbing; others (like me) approached with more trepidation. Finally we all climbed, driven by the need to meet the challenge that faced us. After an intense afternoon of flying ice, funny pictures, and brute force, we returned to our campsite, satisfied with our incredible day. After a long campfire, often interrupted by the bagpipes being played by the cadets nearby, we finally went to bed.
The next day is forever termed "pancake day". Breakfast that morning lasted all of three and half-hours, with the six of us consuming over seventy pancakes! Lunch was simply out of the question, so we packed up our gear and awaited the arrival of Kevin and Francois parents, who were kind enough to drive us home.
It was a great camp, with the entire Crew present, and even after the awful winter weather, it was a beautiful weekend.
Tracy Arsenault
Mate
The Wayfarers